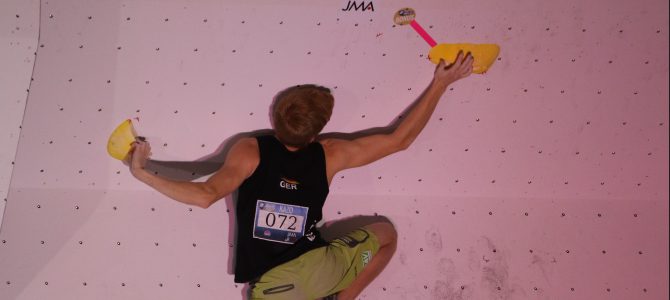 von Alex Averdunk
Just a day after the World Cup in Meiringen I had to pack my bag again for the next adventure. After almost 24 hours of travelling and catching flights we finally arrived in Tokyo with a hell of a jetlag. Just the next day we went for a climbing session in "BPUMP climbing gym" with the incredible strong Japanese climber Kokoro Fuji, who showed us around a little bit afterwards. Big Thanks for that ! The next days were filled with another training at "Base Camp" and a lot of sightseeing. Tokyo is an amazing city and Japanese culture is really inspiring. Its so clean here and everyone is super friendly. Its just sometimes hard to communicate with Japanese because a lot of them don't speak English. Also the food is awesome ! I have never eaten that good sushi and I fear not liking sushi back in Germany no more.
On Saturday I finally wasn't jet-lagged any more and could sleep unit 6am. So I felt really good when going into the comp at 2pm. This time I was able to focus more and could top the first boulder, which had sone really weird moves on volumes, in just two tries. Having a good start really pushes you forward and gives you a better mindset for the next boulders. Even though the next three boulders were really hard and had almost no tops, I did pretty good in them. Luckily the last boulder was a slab, where I am usually really good at. With this confidence I was able to Flash the last problem and secure myself a spot in the semifinals. It feels so good to be in semis another time. The next day I also had a really good start. I did the first boulder in just two tries, and I knew it was not a boulder that many athletes can do (In the end it had four ascents). Unfortunately I messed do on the second problem really hard. At first I wasn't able to stick a rather easy dynamo and then I didn't see a hold. At that point, tie was almost over and last but not least my foot slapped. I was able to send the third boulder in a couple of tries after figuring out the start. Well in the last boulder I just got lost. I just couldn't hold a tiny crimp single-handed, which was the crux in this boulder.
I ended up 10. Place which is an awesome result for me. I am still a little bit annoyed of messing up the second boulder, but I can't complain about the result. I really want to be in the final one day soon, but there is some more training needed for sure. Im really excited what Chongquing brings on ?